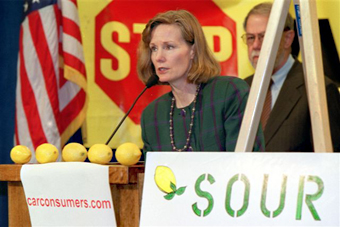 CARS founder Rosemary Shahan has a 30-year track record of non-partisan public service; including repeatedly testifying before Congress, and serving on a Federal Advisory Board to the Federal Trade Commission. Directors of the National Highway Traffic Safety Administration have also repeatedly sought her advice on auto safety policy matters.
---
The Board and Advisory Board of CARS include some of the nation's leading consumer protection experts, including:

Cher McIntyre, Director of Advocacy, Consumer Action, 1994 - 2009;

Lucinda Sikes , Lecturer in Residence, U.C. Berkeley Boalt Hall School of Law;

Jean Ann Fox, Director of Financial Services, Consumer Federation of America;

Pamela Gilbert, Executive Director of the U.S. Consumer Product Safety Administration, 1995 - 2001;

Steven Taterka, former Deputy Attorney General of Indiana and member of the National Association of Attorneys General Task Force on Autos.