"What's Up With Twitter's Content Moderation Policies? "
"The silencing of one consumer advocate reflects real confusion with how speech
is handled on one of our leading platforms of communications infrastructure."
The American Prospect
by David Dayen
March 5, 2021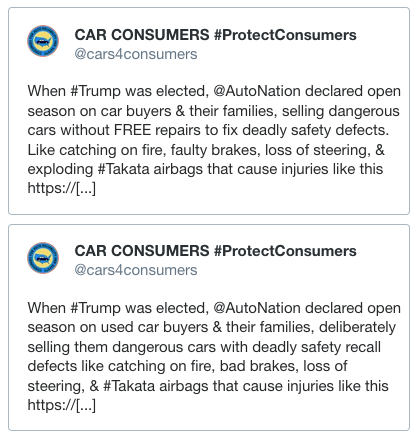 "Rosemary Shahan is a consumer advocate who's been at the forefront of auto policy for nearly four decades. Through her organization Consumers for Auto Reliability and Safety (CARS), she has run successful campaigns to make vehicles safer and prevent used-car company rip-offs. A board member at the Consumer Federation of America, Shahan was responsible for California's first auto lemon law (which became a national model), the federal airbag mandate, and much more.
Right now, Shahan is locked out of her Twitter account, over a claim of 'abusive behavior.' That behavior involves two tweets where Shahan is engaging in the same public advocacy she has been doing her entire career. The tweets specifically target AutoNation, a Fortune 500 used-car chain with over 300 locations nationwide. AutoNation never asked Twitter to take the tweets down, a spokesperson confirmed to the Prospect. So what motivated Twitter's action?
When Donald Trump had his tweets slapped with warning labels and then had his account suspended over false claims about the presidential election, liberals cheered. Finally, Twitter was instituting its terms of service and shutting down contrary behavior. But speech policing is inherently subjective, and in the case of Shahan and others, it can be used as a weapon to block advocates from using essential communications platforms to speak out against political and economic power.
Read more at American Prospect:
"What's Up With Twitter's Content Moderation Policies?"
---