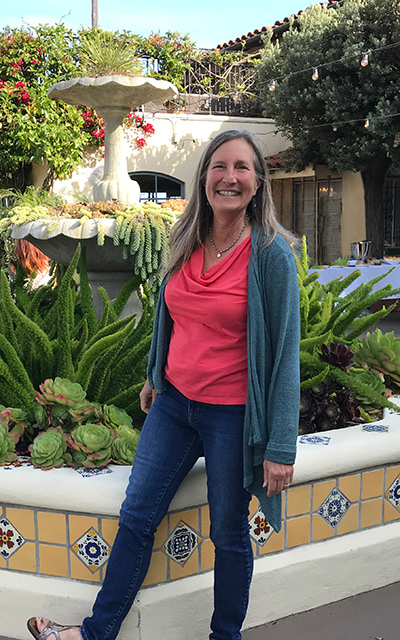 We are heartbroken at the news that longtime CARS Board Member Lucinda Sikes passed away suddenly on Sunday, September 19, while hiking at Point Reyes with her beloved daughter, Kirby.

Members of the Boards of Directors of the CARS Foundation and CARS, including Rosemary Shahan, Cher McIntyre, Cally Houck, Sue Woods, Laura Polacheck, and Bernard Brown, as well as our colleague and sister pro-consumer advocate Pamela Gilbert, join in sharing our grief.

Our hearts and love go out to Lucinda's husband, Bob Shireman, their children Kirby, Camden, and McCoy, and their entire family.

We also offer our sympathies to her many friends and to her colleagues and students at the Berkeley Law School, where she taught legal writing, and was hailed by Dean Erwin Chemerinsky as the " heart and soul of our legal writing program," as well as her friends and former colleagues at the Public Interest Research Groups (PIRGs), Harvard Law School -- where Lucinda earned her Juris Doctorate -- and at Public Citizen and the Consumer Federation of California, where Lucinda and Rosemary served together on the Board of Directors.

Lucinda was the epitome of an effective pro-consumer advocate -- brilliant, dedicated, generous, caring, compassionate, wise, and passionate about achieving justice for all. She was also a joy to spend time with, thanks to her warmth and her delightful sense of humor and irrepressible optimism. She personified what civil rights icon and former U.S. Representative John Lewis described as someone who causes "good trouble."

In the 1980's and early 1990's, Lucinda generously volunteered her time and expertise, serving on the Board of Directors of the Consumers for Auto Reliability and Safety (CARS) Foundation (formerly named Motor Voters) in Washington, DC. Among other auto safety victories, she helped ensure that all vehicles -- not only high-priced luxury cars -- are equipped with lifesaving airbags that have saved countless lives and prevented millions of serious injuries. Since the mid-1990's, she also donated her time and expertise as a member of the Board of Directors of Consumers for Auto Reliability and Safety (CARS), providing invaluable wisdom, guidance, and legal expertise, particularly in helping develop legislative strategies and evaluate thorny legal issues.

We were incredibly blessed to have Lucinda in our lives. She was much more than a highly esteemed colleague and Board Member. She was also a beloved, trusted, and very dear friend. We will miss Lucinda immeasurably, but remain steadfast in our resolve to honor her memory in the best way possible, by carrying on the missions she dedicated her life to pursuing.
---