"Action News Investigates questions congressman about vehicles
with open safety recalls sold at his car dealership"
WTAE Action News Channel 4
Pittsburgh, Pennsylvania
By Paul Van Osdol
November 21, 2019
"U.S. Rep. Mike Kelly (R-Pennsylvania) has responded to questions about why his car dealership offers vehicles for sale with potentially dangerous defects.
Pennsylvania law allows car dealers to sell vehicles with open safety recalls. But consumer advocates say it's potentially dangerous.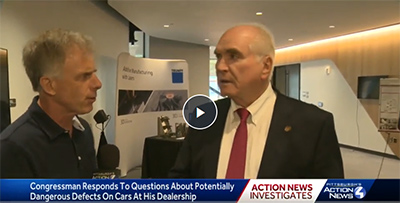 Pennsylvania is one of the few states with a law specifically allowing the sale of these cars, as long as the defects are disclosed at the time of sale.
Earlier this year, Action News Investigates found 17 cars with open recalls for sale at dealerships owned by Kelly.
WTAE chose to look specifically at Kelly's dealership because in November 2015, he spoke on the floor of the House in favor of a bill that would have allowed car dealers to rent or loan vehicles even if they were subject to safety recalls.
'There is not a single person in our business that would ever put one of our owners in a defective car or a car with a recall. But that could happen. That could happen,' Kelly said at the time.
Kelly refused to comment when we contacted him earlier this year....
In a statement, Pennsylvania Automobile Association Vice President Chad Marsar said, 'Every day, dealers are fixing these vehicles, at no cost to the consumer, as soon as parts become available from the manufacturer.'
But Rosemary Shahan, of Consumers for Auto Reliability and Safety, said Pennsylvania's law is putting car buyers at risk. She said Kelly and other dealers should fix recalls before putting vehicles up for sale.
'When there is a safety recall, it means the car is unsafe,' she said. 'If the car has a safety recall you don't want to buy it. You want to wait until it's fixed and safe to drive.'
Action News Investigates found that five of the vehicles at Kelly's dealership with active recalls were advertised on his website as GM-certified....
Brendan Kelly, the congressman's son who oversees the dealership, did not return multiple messages from Action News Investigates.
'Anytime you go to a licensed dealer, you shouldn't have to worry they're deliberately or negligently selling you a car that's really unsafe,' Shahan said.
Watch Investigative Report: WTAE Action News:
Action News Investigates questions congressman about vehicles with open safety recalls sold at his car dealership
---