Helping Win Caps on Interest Rates for
Car Title Loans and other Predatory Loans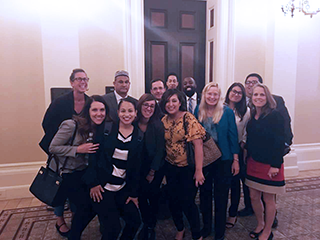 Working with a large, wonderful coalition of pro-consumer, economic justice, faith-based, civil rights, and labor organizations, CARS helped win passage of AB 539 in the California Legislature, to cap the interest rate on consumer loans of between $2500 -- $10,000 at 36% + the fed rate. Next step: Governor Newsom's signature. He has until October 13 to act. He has spoken publicly in favor of curbing predatory lending, but we're not taking his support for granted.
Assemblymember Monique Limón (D-Santa Barbara), Chair of the Assembly Committee on Banking, is the leading author and champion for enactment of the rate-cap bill. Since the 1990s, predatory lenders have been exploiting loopholes in California law that allowed them to charge obscene interest on payday loans, car title loans, and other types of consumer loans. In 1985, California lawmakers capped the interest charges only on loans below $2500, leaving no caps in place for larger loans. So even if you wanted to borrow just $600 to fix a leaky roof, greedy lenders would insist on loaning you an amount over $2500, so they could evade the rate caps and charge sky-high interest rates. Some charged more than 200% interest.
Often, unscrupulous lenders would tell borrowers that they "qualified" for the larger loans, when in reality, they didn't even bother to check the consumer's income or credit, or do anything else to find out whether the consumer would actually be able to repay the outsized loans. As a result, many borrowers were trapped in a cycle of debt, and many car owners lost their cars. Frequently, that led them to also lose their jobs.
For years, CARS has advocated for capping car title loans at 36%, including meeting with legislators and their staff; testifying for bills; helping build coalitions to support passage; assisting consumers victimized by car title loans, so they could testify at hearings; and dong outreach to major publications, resulting in news reports such as these:
San Francisco Chronicle:
"Pink Slip Car Loans: quick cash, high price tags,"
by Carolyn Said
Sacramento Bee:
"State urges California consumers to be wary of car-title loans,"
by Claudia Buck
San Francisco Chronicle:
"'Car-title' loans a road to deep debt,"
by Carolyn Said
As the
Los Angles Times
reported after AB 539 passed in the California Legislature:
"During a debate on the Senate floor, Sen. Holly Mitchell (D-Los Angeles) provided an example of a man who took out a $2,700 car title loan that cost him nearly $11,000 to pay back. Mitchell said he spoke only Spanish, but the lender provided documents in English. 'Those are the kinds of scenarios this bill is attempting to address,"'Mitchell said. 'I, for one, would never want a constituent of mine or a family member to be taken advantage of when they are attempting to deal with ordinary or real life challenges.'"
Read more: Los Angeles Times:
"High interest rate loans could soon be capped in California, under plan approved by lawmakers,"
by Taryn Luna and Liam Dillon
---