"The Hidden Risks of Used Cars
A CR investigation found that dealers are selling used cars
with open recalls to unsuspecting consumers.
Here's how to protect yourself."
Consumer Reports
By Jeff Plungis
April 30, 2019
"Armando Vargas-Ortega had bought his 2002 Honda Civic just three months earlier. While driving on the outskirts of Phoenix one evening last June, Vargas-Ortega, 54, collided with a Jeep that had run a stop sign.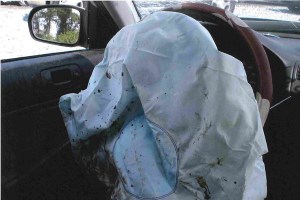 His wife, in the passenger seat, survived with only minor injuries after her airbag activated, as it's meant to. But Vargas-Ortega's airbag malfunctioned. Instead of cushioning the blow, it ejected a piece of metal, lacerating the carotid artery in his neck and covering the driver's seat with 'copious amounts of blood,' according to the police report. Vargas-Ortega died in the hospital three days later....
...the systems in place to identify and fix dangerous vehicles are flawed. Vargas-Ortega's death occurred because of a safety defect that Honda had issued a recall for years earlier. Today, the National Highway Traffic Safety Administration estimates that the unsafe inflator remains unrepaired in nearly 23 million vehicles....
Jared Allen, a spokesperson for the National Automobile Dealers Association, says his group encourages franchised used-car dealerships to tell consumers when a car they're interested in has an open recall, echoing comments from the trade group that represents independent dealers. Allen also says dealers should try to fix used cars with serious recalls. But he says they shouldn't be required by law to fix all recalls because replacement parts are not always available and because "not all recalls are equal" and need to be repaired before a buyer leaves the lot.
Car safety advocates disagree. 'There's only one reason it's under a safety recall, and that's because it's unsafe,' says Rosemary Shahan, president of Consumers for Auto Reliability and Safety, a national watchdog group based in California. There's now additional protection for rental cars under federal law, Shahan says, arguing that the same protections should apply to used cars. [Shahan also pointed out that there are many state laws that exist to protect consumers from unsafe cars. Some consumers, using state consumer protection laws, have won lawsuits against dealers who sold them unrepaired recalled vehicles.]
When our secret shoppers asked directly about the Takata recall, saying that they had heard about it on the news, the dealers' responses varied, with some refusing to fix or even acknowledge the problem....
For example, a dealer at the Richmond Truck Authority in Richmond, Va., told our shopper that it couldn't do the repair on the truck because it wasn't a Ford dealer but that once the truck was sold, it would be done for the new owner free of charge. 'I can't even take it to them because being another dealer, they will charge me for it,' our shopper was told. 'But you being the owner, they will do it for free.'
But under federal law, recall repairs are free to the legal owner of a vehicle, which includes used-car dealers. And Ford spokesperson Monique Brentley says that anyone, including independent dealers, can take any Ford, Lincoln, or Mercury vehicle to an authorized dealership for a recall repair at no charge.
Several states, spurred by industry-led lobbying campaigns, have tried to protect used-car dealers from lawsuits related to recalls. Last year, Tennessee enacted a law saying dealers were, in most cases, protected as long as they disclosed open recalls. Pennsylvania has a similar law. Massachusetts, Missouri, New Jersey, and New York reportedly also have similar measures under consideration.
Consumer advocates, however, say simply disclosing the problem isn't good enough. 'That puts the burden on the buyer to sort through what needs to be fixed right away and what could wait,' says Wallace, CR's policy expert."
....for commercial dealers, both franchised and independent, it should be mandatory [for them to get problems fixed before they sell the car].
Says Wallace: "If there's an open defect, it has to be fixed, period."
Read more: Consumer Reports, April 30, 2019:
Hidden Risks of Used Cars
---