Providing Expert Testimony, Warning about the Lack
of Safety Standards for Autonomous Vehicles
CARS President Invited to Testify on Panel with Representatives
from General Motors (Cruise), Waymo (Google) and Lyft
Public News Service
January 11, 2018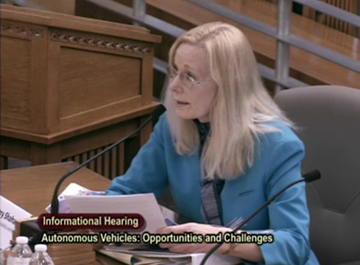 CARS President Rosemary Shahan provided expert testimony before a public informational hearing conducted by the California Senate Committee on Transportation and Housing, at the Committee's invitation, regarding autonomous vehicles: Opportunities and Challenges.
Senator Beale (D-San Jose) chaired the hearing, which was also attended by Assemblymember Jim Frazier (D-Fairfield), Chair of the Assembly Committee on Transportation, and Senators Skinner, Glazer, Wieckowski, Dodd, Gaines, and Allen.
Auto manufacturers and tech companies like Google, plus Uber and other ride-sharing companies and their investors are pushing in Congress and in Sacramento to roll back safety standards, so they can sell unlimited numbers of semi-autonomous and driverless cars without having to meet even the most basic safety standards, such as being able to be driven safely in construction zones, or all kinds of weather.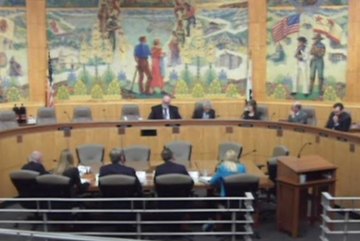 CARS warned about the hazards posed by allowing autonomous vehicles to be sold to consumers, before ANY federal or state safety standards are in place. Currently, there are no safety standards specifically for autonomous vehicles -- not even against their being hacked by cyber-criminals and weaponized to carry explosives or drugs. The FBI and other cyber-security experts have also been raising alarms about the vulnerability of autonomous vehicles to being hacked.
Read CARS testimony
Read more:
Consumer watchdog: Speed not safety is California senate's concern in robot car hearing
Street blog:
Autonomous vehicles are coming and California isn't ready
---