Consumer Advocates Urge Investigation of Mystery BMW Fires
ABC News
May 17, 2017
by Cindy Galli, Stephanie Zimmerman, and Cho Park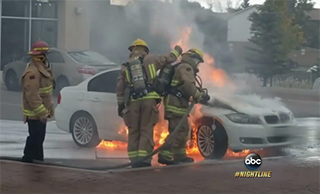 "Officials from two leading auto safety organizations are calling for the National Highway Traffic Safety Administration (NHTSA), the federal agency tasked with investigating potential defects, to investigate a series of fires in parked BMWs following an ABC News report last week.
Meanwhile, several new consumer complaints from BMW owners reporting similar incidents have appeared in NHTSA's database and on BMW owners' blogs in the past several days.
Calling the 43 fires uncovered by ABC News 'disturbing,' Rosemary Shahan, president of Consumers for Auto Reliability and Safety, said NHTSA should take a serious look at the reports.
'They definitely should,' Shahan said. 'They should be investigating and getting documents from BMW and find out what's going on.'"
Read more:
Consumer advocates urge investigation of mystery BMW fires
---