Auto dealers and auto manufacturers trying to kill rental car safety bill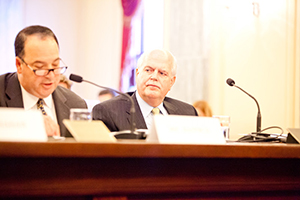 Representatives of the auto manufacturers and new car dealers testify against the Raechel and Jacqueline Houck Safe Rental Car Act, before the US Senate Commerce Subcommittee on Consumer Protection, Insurance and Product Safety
New car dealers and auto manufacturers are lobbying Congress behind the scenes in an attempt to derail the Raechel and Jacqueline Houck Rental Car Safety Act, which would prohibit rental car companies from renting unsafe, recalled vehicles to the public unless the safety recall repairs have been performed.
The dealers complain that some of them own rental car companies on the side, and they don't want to lose any revenue from renting cars just because they're unsafe. The auto manufacturers argue that even though they made the defective cars, they shouldn't have to worry about compensating rental car companies for lost revenue when the vehicles are out of service, while the safety recall repairs are performed.
The dealers want to be able to pick and choose which safety recalls are serious enough to require them to fix the car first. That would also allow them to choose who ends up riding in the unsafe cars. Under current law, the dealers are prohibited from selling unsafe, recalled cars to consumers -- if the cars are NEW. But there's no law that keeps dealers from renting recalled cars to unsuspecting consumers.
The Moment of Truth: Should rental car companies be allowed to rent cars to the public when they are under a safety recall?
According to polling commissioned by CARS, a whopping 86% of the public says NO.
What do the auto manufacturers and car dealers say? See for yourself:
Note: the car dealer representative also said that the dealers who own rental car companies should be the ones to decide which recalled cars are safe enough to keep renting, without getting them repaired. Instead of grounding unsafe, recalled cars until they're fixed, they prefer to "disclose" they're being recalled. Then if you drive a recalled rental car and are injured or killed, they can say that it was your fault because you "assumed the risk." Nevermind the fact they deliberately rented you an unsafe car.